Since 2014, the ULI Al. Neyer UC Competition has encouraged students to form multidisciplinary teams to devise a comprehensive real estate development proposal for a real, large-scale site. The studio competition gives students hands-on experience in the process of working with colleagues from other disciplines to create a viable development project. It is often the first time an architecture student from UC College of Design, Architecture, Art and Planning (DAAP) works on a team with a real estate student from UC Carl H. Lindner College of Business.
The project site for the 2017 Competition was the Bond Hill Business District, located approximately six miles northeast of Downtown Cincinnati. The development site is comprised of vacant land and existing buildings – some of which are owned by the Greater Cincinnati Redevelopment Authority, which acquired the property to increase neighborhood vitality. Teams were required to propose development of the area for a residential/mixed use project with appropriate density for the surrounding neighborhood.
On December 4, five student teams made their final presentations vying for a $5,000 award, in the fourth annual ULI Al. Neyer UC Competition. The event concluded an eight-week studio course done in collaboration with the UC Real Estate Program and Center, UC College of DAAP's Niehoff Urban Studio and ULI Cincinnati.
WINNING PROJECT: BOND HILL SQUARE
The winning team proposed the Bond Hill Square – a project seeking to revitalize the business district located in the heart of the Bond Hill neighborhood. The project activates vacant land and buildings with a mixed-use development surrounding a new, community centerpiece public square. The proposal strives to realize community goals through context-sensitive design and spur revitalization through concentrated investment.  The team with the winning proposal included a combination of UC undergraduate and graduate students from different disciplines: Joseph Rusche, Matt Ziegler, Alex Scherzinger, John Miklos and Charles Wiederhold. The winning team received a $5,000 award, and all student participants received a one-year ULI membership.
LOCAL REAL ESTATE COMMUNITY INVOLVEMENT
The support of the professional real estate community is what makes the competition a valuable experience, according to Lydia Jacobs-Horton, Executive Director of ULI Cincinnati. Judges are local developers, commercial lenders, architects and other real estate professionals who score each project on design, financial feasibility, physical feasibility, market feasibility and presentation.
Developed by ULI Cincinnati members in partnership with Shaun Bond of the UC Real Estate Program and Center, Mike Eriksen of the Carl H. Lindner College of Business and Frank Russell of the UC Niehoff Urban Studio, and the UC ProPel program, the course is modeled after the ULI Hines Student Urban Design Program.
An impressive roster of real estate leaders and professionals from the local industry served as instructors, mentors, and judges for the competition: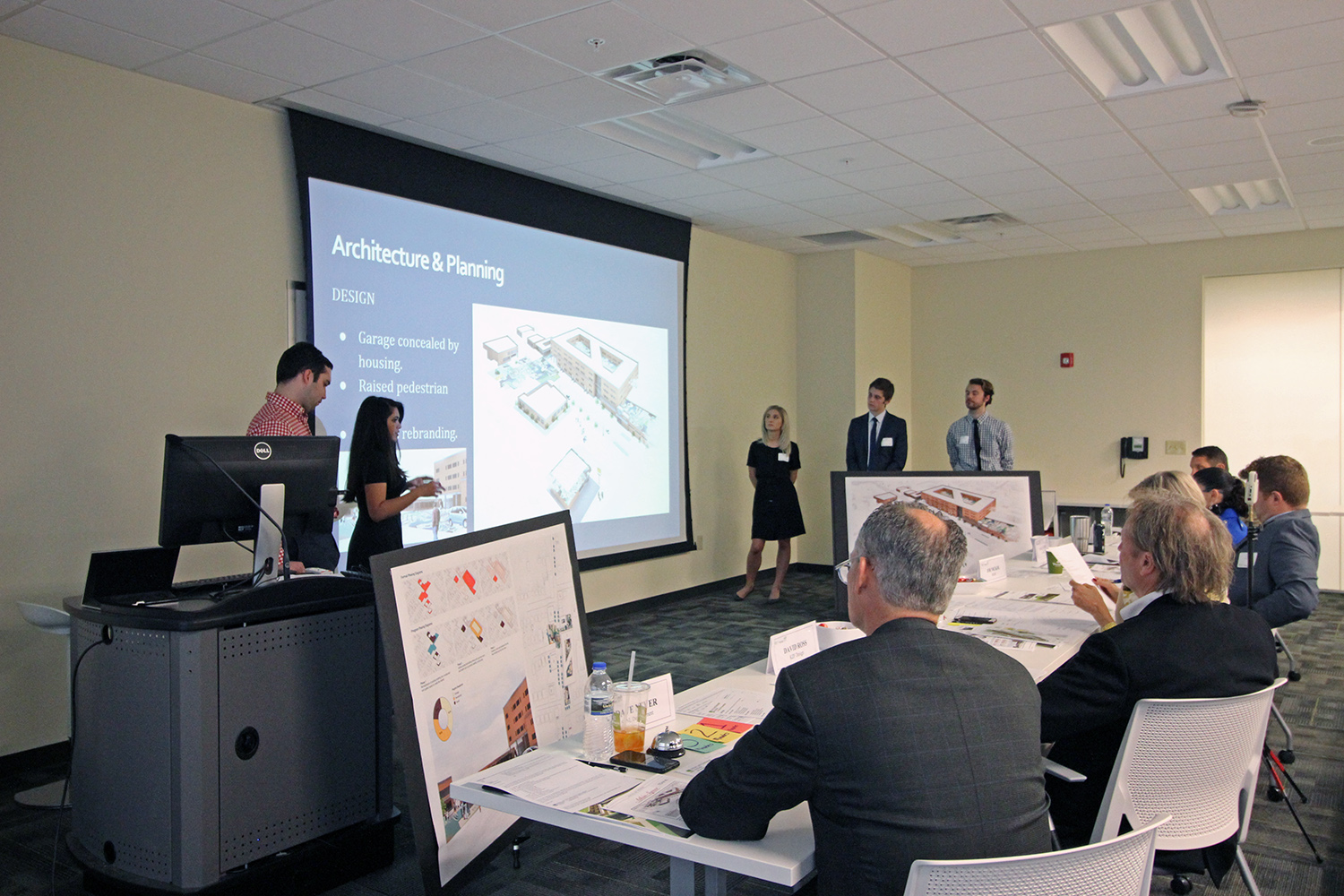 Judges panel:  Dan Ruh of Al. Neyer; Pam Weber of PNC Bank; Joe Nickol of MKSK Studios; Laura Brunner of Greater Cincinnati Redevelopment Authority; David Ross of KZF Design and judging coordinator, Dave Neyer of STNL Development.
Instructors: Brian Copfer of Miller Valentine Group, Steve Kenat and Chad Burke of GBBN Architects, Scott Laffin of Bayer Becker, Kevin Wright of Walnut Hills Redevelopment Foundation, Jeanne Schroer of The Catalytic Fund, Tom Rowe of Terrex Development & Construction, and Sean Suder of Calfee, Halter & Griswold.
Case competition founding champion Dave Neyer remarked how the partnerships and process have strengthened with the fourth year of the competition. "The partnership with ULI members opens doors to co-ops and internships with the firms of the mentors and instructors. It's a great opportunity for engagement and we've seen it really inspires students to pursue careers in some aspect of real estate development," says Neyer.
Mentors: Michael Kady, Civil & Environmental Consultants; Lasserre Bradley, Pennrose; Jeff Raser, glaserworks; Chad Burke, GBBN Architects; Chad Munitz, Towne Properties; Jason Chamlee, The Model Group; Steve Kenat, GBBN Architects; Tom Rowe, Terrex Development & Construction; Stefan Cornelis, GBBN Architects; Kevin Wright, Walnut Hills Re-development Corporation; Ryan Laber, Bayer Becker; Adam Gelter, 3CDC; David Neyer, STNL Development; Bruce Crutcher, First Financial Bank; Taylor Gruenwald, Greater Cincinnati Redevelopment Authority; and Matt Jacob, Cushman & Wakefield.
Committee members: Steve Kenat of GBBN Architects; Dan McCarthy of STNL Development; Lydia Jacobs-Horton of ULI Cincinnati; David Neyer of STNL Development; Greg Burrows; and Laura Brunner and Robert Sanders of Greater Cincinnati Redevelopment Authority.